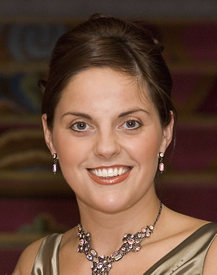 "Celine Bryne, from County Kildare, Ireland, is making her mark on both the operatic and concert stages throughout the world." The Independent
Performances on the International stage both as a competitor and as a soloist with several opera companies, has led to Celine being recognized as one of Ireland's best sopranos with a world class lyric voice.
"Her strong voice has an attractive timbre and she sings with supreme confidence - clinging to [the] high notes... Singing is obviously a joy to her and this message transmits easily to her audience." The Post
Her appearances at major concert houses both in Ireland and abroad, including the National Concert Hall in Dublin, and the Hermitage in St. Petersburg, Russia, and her debut at Carnegie Hall in 2007, have been greeted with enthusiastic acclaim by her audiences.
Celine has a Masters in Music from the Royal Irish Academy of Music, Dublin, where she studied with Dr. Veronica Dunne. She also has an honours Music Degree from the Conservatory of Music and Drama, Dublin, where she was awarded the college Gold Medal for excellence. She has received coaching at the National Opera Studio in London and was a participant in the inaugural artistic development programme with Wexford Opera.
Celine has received many awards both on a national and international platform. Of these, the most prestigious was receiving the First Prize and the gold medal at the 2007 Maria Callas Grand Prix in Athens, Greece. She was declared winner out a group of one hundred leading international singers at this highly esteemed competition. She was also awarded the William Young Prize at the Veronica Dunne International Singing Competition, Dublin, and the "Brabant's Dagblad Press Prize" at the IVC International Singing Competition in 'Hertogenbosch, The Netherlands. She is recipient of many bursaries, including the John McCormack Bursary.
As one of Ireland's premier sopranos, Celine has been invited to sing at many prestigious events including performances for both Archbishop Desmond Tutu in Cape Town and Pope Benedict XVI in the Vatican.
Her numerous recitals throughout Ireland and abroad include the National Concert Hall, Dublin, the Hermitage, St. Petersburg, Tchaikovsky Hall, Moscow and Carnegie Hall, New York and she has sung with tenors Jose Carreras, Roberto Alagna, Alfie Boe, Alexandro Saffina, Finbar Wright, and Anthony Kearns.
Amongst others, Celine has performed with opera companies, such as Lyric Opera, Anna Livia Opera Festival, and Wexford Opera Festival. Her repertoire includes Oratorio, Opera, Operetta and Lieder. Works performed include Handel's Messiah, Fauré's Requiem, Mozart's Mass in C, Mozart's requiem Mass, Mahler's Rückert Lieder, Korngold's Drei Lieder and Strauss' Four Last Songs. Her roles include Countess Almaviva in Le Nozze di Figaro, Fiordiligi in Cosi Fan Tutte, Nora in Riders to the Sea, Mimi in La Boheme, Nedda in I Pagliacci, Rosalinde in Die Fledermaus, and Hanna Glawari in The Merry Widow.
Future engagements include concerts with Jose Carreras in Sweden including a six-date tour of Germany in November, and a John McCormack tribute in Carnegie Hall with Alfie Boe in December.
Other engagements include Mendelssohn's St. Paul in the National Concert Hall with RTE Symphony Orchestra, Mimi in La Boheme with Scottish Opera, and concerts in Dublin National Concert Hall, Cork Opera House, Wexford Opera House, Zurich, Capetown and Rome.